english version below
---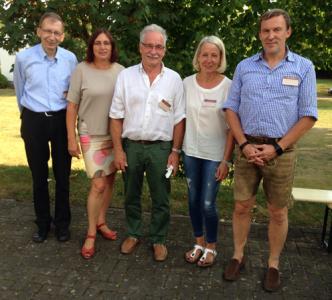 v.l. Eberhard Hoppe, Gerda Wied-Glandorf, Hans Rudolf, Edda Rudolf, Michael Mailliart
Alfred Knau lebte viele Monate des Jahres bei und mit den Samburu und auch der heutige Vorstand ist mehrmals im Jahr in Kenia und belebt die Projekte im direkten Kontakt mit Vertrauten vor Ort.
Die Mitgliederversammlung der SamburuHilfe e.V. hat am 11. Mai 2016 folgenden Vorstand gewählt:
---
Alfred Knau lived for many month of the year with the Samburus and also today's head of the board is several times a year in Kenya and enlivens the projects in direct contact with trustworthy people on site.
The membership meeting of the SamburuHilfe e.V. voted on May 11th 2016 for the following board: